WhWho doesn't know this generation's sensation "Euphoria" series? It's so popular among youngsters due to the strong portrayal of characters and their iconic looks that inspires thousands of makeup artists and normal people to be themselves, unapologetically. If you are aware of this show and are a regular viewer then you must be knowing about Maude Apatow who is playing the role of Lexi Howard who is a great supporter of her childhood friend Rue and is the younger sister of Cassie. If you are a fan of this character then you must be wondering how she is in real life and who are her parents and family. This article is perfect for people like you who want to know about Maude Apatow parents.
Who Is Maude Apatow?
Maude Annabelle Apatow was born to Judd Apatow and Leslie Mann on 15th December 1997. She even has a sister named Iris Apatow. Maude & her sister both were born in Los Angeles, California, U.S.
She read at Crossroads School, Santa Monica California. Further, she attended Interlochen Arts Camp in Michigan. Besides she even featured in musicals like "Cabaret" and "Into The Woods" during her high school days. She was in her initial years when she dropped out of Northwestern University in Evanston, Illinois.
This 25year old American actress started working from her childhood as a child actress by playing the role of a daughter in "Knocked Up" in 2007, "Funny People" in 2009, and "This Is 40" in 2012. She even starred in movies like "Assassination Nation" in 2018, "King Of State Island" in 2020, and "Hollywood" in 2020. Her most recent work was in the series "Euphoria" (2019-current).
Now that you know a bit about her let's talk about Maude Apatow parents.
Maude Apatow Parents
She was born to Judd Apatow (father) who is a director, and producer, and Leslie Mann (mother) who is a famous actress.
Maude Apatow Father: Judd Apatow
Now that you've gotten the idea about who gave birth to Maude Apatow and why people wish to know more about him, let's a short glimpse over Maude Apatow Dad.
Judd Apatow was born on 6th December 1967 in New York City, U.S. to father, Maury Apatow who was a real-estate developer, and mother, Tamara Shad who use to run her father's music label Mainstream Records. He is Jewish but nonreligious. He had an older brother, Robert, and a younger sister, Mia. Moreover, he was married to Leslie Mann in 1997 and had two daughters, Iris and Maude.
Early Life
When he was 12 years old he started living with his father after his parents got a divorce. He just met his mother on weekends. Judd one of Maude Apatow's parents was quite famous for his comedy as well as being a filmmaker and actor. He was first introduced to comedy in a live stand-up comedy show in a comedy club where his mother used to work during summer breaks.
Judd got a start in his comic interest by washing dishes at Island East Side Comedy Club. He played jazz and hosted a program called Comedy Club during his high school days. He attended Syosset High School. Moreover, he even interviewed the comedians like Steve Allen, John Candy, and many more during this period over the phone who were his absolute favorites.
Career
As you might know that he started to perform as a stand-up comedian from a very young age you should know that he was selected as an associate editor in Laugh Factory Magazine. After graduating from high school he applied to the University of Southern California. He even hosted a lot of comedy shows and performed at the Improv in Hollywood. But he dropped out in his second year and competed in the Johnnie Walker Comedy Search in 1989.
Awards & Nominations
He was hired as a writer for the 1991 Grammy Awards. Also, he co-produced comedy specials by Jim Carrey, Tom Arnold, and Roseanne Arnold. Apatow appeared in HBO's 15th Annual Young Comedians Special. Judd co-created "The Ben Stiller Show" for Fox. Also, he earned an Emmy Award, and finally, Apatow co-produced and wrote "The Larry Sanders Show" in 1993. He even directed an episode in 1998. He got 6 Emmy nominations for this show. More so, he even worked in "The Critic".
He continued his work until he got a breakthrough from his box office successful creation, "Anchorman: The Legend of Ron Burgundy" in 2004. Besides he even co-produced its sequel in 2013. "The 40 Years Old Virgin", 2005 debuted at no.1 at the box office. And that helped him earn $175 million globally. This movie co-written by him also won him a lot of awards including AFI's Top Movies of the Year, Best Comedy Movie, etc. Another hit by him was this romantic comedy named "Knocked Up" in 2007.
As A Producer
"Superbad", written by Seth Rogen and Evan Goldberg was produced by Apatow in 2007. This debuted at the number one position at the box office taking $33 million in its opening weekend and he was on his way to success. In 2009 "Year One" was produced by Judd but was not received well by the audience. "Funny People" was also produced in the same year. "Get Him to the Greek", 2010 grossed $92 million. "Bridesmaids", 2011 grossed $288.4 million worldwide and received Oscar nominations.
He also created a Netflix comedy series "Love" in 2016. He also made an HBO series which was semi-autobiographical named "Crushing". In 2017 he produced "The Big Sick" and it was nominated for an academy award in 2018. In 2018 he directed "The Zen Diaries of Garry Shandling".  And in 2020 he directed and co-wrote "The King Staten Island" and in 2022 he co-produced "Bros". This was the first rom-com with an LGBTQ cast.
Appearance
This 55-year-old man is 5'10" in height and weight is 70kgs. He has black hair with dark brown eyes. This American actor has a charming personality.
Net Worth
His net worth is $160 million as of now. You can conclude this from his daily income, expenditures, and property. Being a producer, writer, and director, which has earned him a lot of money. He has produced countless films and television shows.
Leslie Mann
Leslie Jean Mann is one of Maude Apatow parents. She is an American actress and has appeared in many films like "The Cable Guy"(1996), " George of the Jungle"(1997), "Big Daddy"(1999), "Knocked Up"(2007), etc.
Early Life and Education
Leslie Jean Mann was born to Janet (mother) and father (no information) in San Francisco, California, U.S. on 26TH March 1972. She is an American actress(1988-present). She has two siblings and three older stepbrothers. Her maternal grandmother was of Finnish origin. She married Judd Apatow in the year 1997 and has two children Maude Apatow and Iris Apatow.
She was very shy, and kind of pent-up at a young age. Furthermore, she went to Corona del High School. At Joanne Baron / D.W. Brown Acting Studio, she studied acting. She attended college to study communications but dropped out.
Career
Maude Apatow parents started their careers at an early age. Mann started working at the age of 18 by appearing in several ads on television. She worked in "The Cable Guy" in 1986. She also appeared in a lot of other movies and shows mainly "Freaks & Geeks", "George of the Jungle", and "The 40-year Old Virgin". Also, she was featured in "Knocked Up" (2007) which grossed approx. $ 218 million worldwide.
Awards & Nominations
This film catered a "Best Supporting Actress" nomination from Chicago Film Critics Association along with winning a People's Choice Award. In 2009, she worked in the movie named, "Funny People" which made its place among many top ten movies list. She acted in "17 Again" in 2009 which was a great success and grossed $125 million worldwide. Another movie of hers was "I Love You Phillip Morris" which premiered in 2009 and catered to "Best Comedy" nominations for the 2011 Broadcast Film Critic Association Award.
Leslie As A Successful Comedian
She did a voice-over in the movie "Rio" which earned $484 million worldwide. She continued lending her voice in 2012 as well to "ParaNorman." In 2012 she featured in "This is 40". For this movie, she was nominated for best actress in a comedy. In 2013, she did a film with Emma Watson named "The Bling Ring". She narrated an episode of Makers: Women Who Make America (S2)in 2014. She acted in "Blockers" and "Welcome to Marwen".
Appearance
This 51year old American actress has beautiful blonde hair with pretty blue eyes. She is 5'7″ in height and weighs 54 kg. Body measurements are 34-23-34.
Net Worth
Currently, according to research, her net worth is $150 million. As you know she is an actor, a voice actor, and her income and expenditures prove the previous point. As you have been reading about her career you would have got an idea about how famous she is. Besides her husband, she also owns multimillion-dollar property across the United States.
Maude Apatow Parent's Relationship With Her
She started working under her father's supervision in films or shows produced by him. Her whole family knew about the open nepotism. She departed from her father's project from her fifth role which was in "Other People". Thus, it was the start of her new life where she was completely on her own. She has made her own name and has been cast in Netflix's Hollywood, Euphoria, etc. Recently she has started to work with her father again but this time it's not because of nepotism but because of her popularity.
Maude Apatow Parents Relationship With Each Other
Judd Apatow and Leslie Mann met when she auditioned for "The Cable Guy" back in 1996. Apatow was reading the lines to the people who auditioned for the role. They tied the knot on 9th June 1997. Leslie and Judd are supporters of the non-profit organization 826 L.A. for a long time. This organization is a place for disadvantaged youngsters to develop their writing skills. They are associated with UCLA Rape Treatment Centre's Stuart House. Both of their contributions were honored by "The Children's Choice Award" in 2012.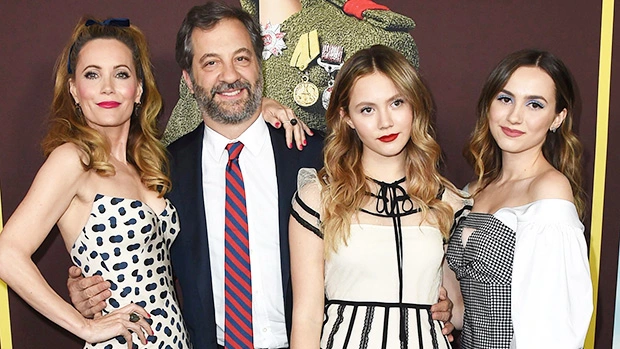 Frequently Asked Questions (F.A.Q.s)
1. Who is Maude's parents?
Leslie Mann and Judd Apatow are her parents.
2. Whose daughter is on Euphoria?
Judd Apatow's daughter, Maude Apatow, who is 25 years old, played the character of Lexi Howard in Euphoria.
3. Are Maude and Judd related?
Yes! They are related. Judd Apatow and Maude Apatow share a beautiful relationship of father and daughter.
4. Who is Apatow's best friend?
Maude Apatow's best friend is Vivian according to the cast of the show.
5. Who is older Maude or Iris?
Maude Apatow is the older sister of Iris Apatow.
6. Who is Maude dating?
Maude Apatow is dating Lukas Gage where she posted a cute snap of them with a caption of "I love u" on February 22, 2023.
Conclusive Insights
When you're talking about Maude Apatow parents, you've definitely gotten a glimpse of what you actually want to know about her and much more in our segment above. So, go ahead and check out all the details, and don't forget to leave us a part of your thoughts in the following comment section below as we wait eagerly for your response.