What is the first thing you see standing in front of a mirror? What do people notice first the moment they meet you? The answer to both questions is – Your face. That is precisely the reason why we are always conscious of – How is the face looking? Whether the makeup is perfect? Do I need a Botox shot? And so many such questions. But do you know the most common thing people are curious about is – How to make your face look thinner?
A well-sculpted face is what everyone wants – be it celebrities or commoners. Little wonder why 'facial yoga' and 'contouring ideas' are among the most common web searches – not to forget various kinds of diets for weight loss. Have you ever found yourself swaying your face from side to side, trying to check for facial fat?
If that is you, here are the top four techniques that can help you make your face look slimmer. While the second one will take some time to show results, the rest of them are instant solutions you can try today and get immediate results:
How To Make Your Face Look Thinner with Makeup
When you want to look pretty, one of the age-old tricks is to use makeup. We need the correct shades, makeup tools, and an aesthetic sense. Using these, we can create an elegant visage.
Contouring
The first thing that you must do is contouring. To learn how to make your face look thinner, you must master the technique of contouring using the right shades and blending tools. This helps in creating shadow effects in the right places like
Your forehead

Hollows of your cheeks

And your jawline

On the sides of the nose
A contouring kit with a concealer one or two shades darker than your complexion is all you need to achieve this effect. You also need a makeup sponge or a blending brush to blend in the shades to give a natural seamless look.
Eyebrows
Who could have thought that eyebrows could make your face look slimmer? Well, having naturally arched eyebrows can indeed give you a more sculpted look. You can start by drawing an outline following the natural shape of the brows. Give special attention to the arch. This will give your eyebrows a more defined look. Next, fill the sparse areas with the spoolie. This will lend a natural look to your eyebrows.
Nose makeup
Yes, you heard that right! Your nose also needs makeup so that your face looks thinner. As told above, use a concealer two shades darker than your skin tone around the sides of the nose. But on the bridge of the nose, use a concealer two shades lighter. Then blend it completely with the darker shades on the sides of the nose to give a flawless look. This way, you can make your nose look thinner and longer. This will contribute to a slimmer-looking face.
Highlighter
Finally, do not forget the highlighter – your magic trick to give an uplifting effect to your face. This is a must-have for anyone who wants to know how to make your face look thinner. Invest in a good highlighter and use it in the following places:
At the center of the forehead

Under the brow bone

Inner corners of the eyes

Bridge of the nose

Top of the cheekbones

Cupid's bow

Center of the chin
This should give a nice glow to the face and also make your face look more toned.
Cat-eye Eye Makeup
Even your eye makeup can double up as a face thinner when done right. Cat eye makeup is a hot trend. One of the reasons for being so trendy is the fact that it makes the face look slimmer. While putting on your eyeliner, you have to move slightly upward to achieve this look. Once you master it, you can get that nice slim look we all crave.
How To Make Your Face Look Thinner Without Makeup
Makeup can make subtle changes to your face instantly, and give you a slimmer appearance. But if you want to make your face look thinner naturally, then there are a few things that you need to do regularly.
We have listed six tips that you need to do regularly if you want your face to look thinner with or without makeup:
Facial exercise
Tip#1. Facial Yoga – One of the popular searches online is facial yoga. They are great for reducing facial fat. They double up as anti-aging exercises. This means that if you do facial yoga regularly, you may delay the aging process as well.
Tip#2. Water Intake – As you drink more water, you tend to feel fuller. This in turn leads to lesser consumption of calories. Also, some studies show that water increases metabolism for some time. This can help in reducing overall body fat, including that of cheeks.
Tip#3. Reduced Refined Carb Intake – When the refined carb intake is high, the body accumulates fat in different places. One such place is the face. So, if you want to reduce face fat, you should reduce the intake of refined carbs.
Tip#4. Increase Cardio Exercise – We know for a fact that cardio exercises are great for reducing body fat. That holds true for facial fat as well. If you have a double chin or fat cheeks, try including cardio in your daily workouts. About 20 to 40 minutes of cardio every day can really make a difference. Some of the popular cardio exercises are walking, running, and swimming.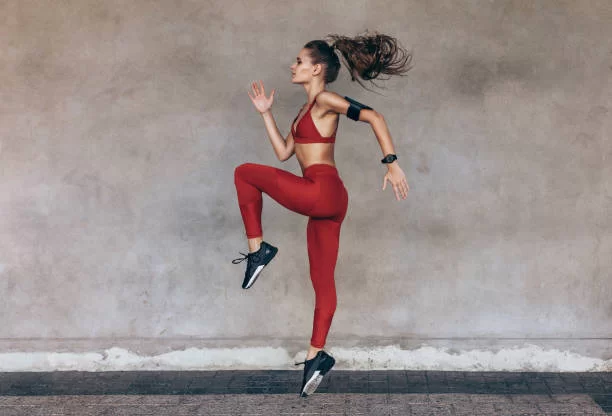 Tip#5. Reduce Alcohol Intake – If you can not imagine your meal without your favorite glass of wine, it is time to reimagine meal time. Alcohol may make you feel great., but when it comes to your face, you'd rather cut down on your drinking to make your face look great
Tip#6. Sleep – If you want to make your face look thinner and prettier, you should know the benefits of good sleep. When you rest well, not only do you reduce weight, but also your stress levels reduce, which makes you look beautiful.
How To Make Your Face Look Thinner with Hairstyles
Now you might think the above tips will take a lot of time to make any changes to your face. But you are in a hurry to have a slimmer face. No worries. There is another cool trick up our sleeves. That is changing your hairstyle.
It's a known fact that changing hairstyles can completely alter looks. So, if you are conscious of a round face, you can try a few hairstyles that make your face look sleeker. Most of these hairstyles require you to have volume in the hair that surrounds the face.
If you want to see how to make your face look thinner with different hairstyles, you can try any of the following:
Style#1. Face framing curtain bangs – Curtain bangs, as the name suggests, add curtains to your face, thereby creating a slimmer look. This look never runs out of fashion. So, if you want to achieve a svelte look, try curtain bangs. 
Style#2. Fringes – Whether you have straight fringes or swept to a side, they cover most part of your forehead. This gives you a more petite visage.
Style#3. Volume at the crown – You can get this hairstyle by backcombing or with teased back hair. With a voluminous crown, the face gets a length, which makes it look slimmer.
Style#4. Big curls – These do a good job of drawing attention to your hair and also give a sleeker and more balanced look to your face.
How To Make Your Face Look Thinner in a Photo
Even with the right hairstyle and the makeup game on point, do you feel like you look wider in pictures? With this trick, your face will start looking thinner. Also, with the pose done correctly, you will look more elegant in pictures.
So how to make your face look slimmer with the right pose? To start with, stick your chin out a bit. This will slim under the jawline. Push the tongue to the roof of the mouth to tighten the muscles under the chin. This way you can avoid having any hint of a double chin.
How To Make Your Face Look Slender in Picture Apps
In the modern day, when apps rule the world there are multiple options available on Android phones and iPhones to make your face look thinner. All you have to do is upload a pic. Then use the app to highlight your cheekbones, reduce your jawline or double chin, augment the lips, or make your whole body look thinner.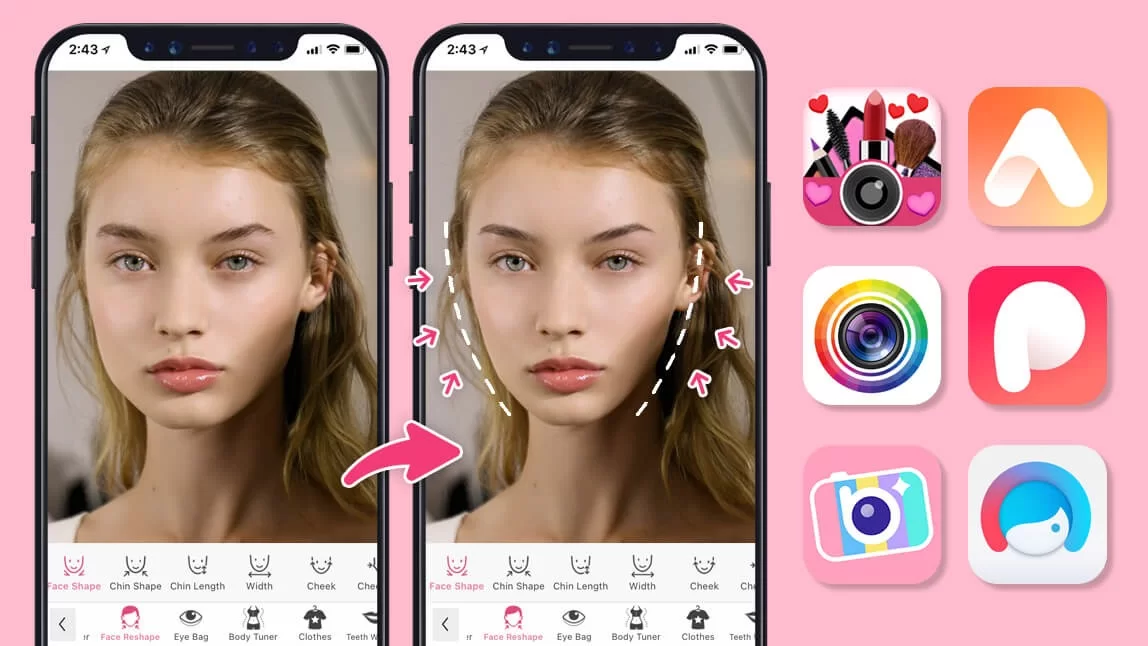 Some of the apps that are rocking 2023 are:
Make Me Thin

Facetune

Body Editor Booth Skinny & Fat

Face & Body Photo editor

Pro Retouch Body & Face Editor

Adobe Photoshop Express
The above list is only to name a few. Many such apps are either paid or free to download. Some even have in-app purchases. Download one on your mobile phone today.
These apps are very intuitive. Soon you will be able to make your face look thinner and your body look slimmer. And then voila! You are Instagram-ready in no time.
Conclusion
Whether you take the longer route and shorter ones is your choice. Now you know all the ways how to make your face look thinner. Whether you choose to go for a naturally thinner face, or you are looking for an overnight miracle. There is always a solution to have a more sculpted and modish face.