In today's fast-forward world making breakfast is a hazard, especially if you are a working parent. Kids are so fussy nowadays that feeding them regular breakfast is almost impossible. Making them eat healthy food is an even bigger problem. To feed them you must try something new each time you cook. Not only should the food taste good but also it should be attractive to look at. Thus, your presentation matters as well. Feeding your kids is no less than impressing your boss while at work. Your boss might be impressed with the regular ideas and presentations but kids won't. They are the most strict critics. You have to find new recipes now and then to make their relationship with food enjoyable. Here are some healthy breakfast ideas for kids.
Healthy Breakfast Ideas for Kids
Kids need a nutritious breakfast to kick-start their days. They need properly balanced food to gain energy and perform different tasks all day. From school to tuition to extra-curricular activities they need carbs, protein, and fiber along with other nutrients to grow well. Young kids need a proper diet for their brain and muscle development. Here are some healthy breakfast ideas for kids that you can try-
1. Smoothies
Having a smoothie rich in nutrients is a great way to start your day. It's even better for kids as they will not feel bloated or heavy right early in the morning. Plus having a smoothie is easy and they could even drink it on their way to school or tuition. Smoothies will increase their fruit intake without their notice.
Mango Smoothie– Add one and a half cups of milk to half a cup of peaches and half a cup of mangoes. Blend it well in a mixer grinder. Drizzle it with some honey for extra sweetness. This fruity smoothie is to die for. Your kids will have fun while drinking this. It would be even better if you could some vanilla or butterscotch extract in it. If you want to avoid dairy products then add almond milk instead of cow's milk. You can decorate the glass in which you are serving by drizzling it with honey. Frozen fruits can be used during summer as a refreshing drink.
Blueberry Smoothie– Add one cup of yogurt to half a cup of frozen blueberries. Add half a cup of water. Blend it well. You can serve it as it is or you can add a bit of honey to it. You can add crushed blueberries or blueberry jam for texture and better taste.
Pineapple Smoothie– You would need half a cup of pineapple cubes or frozen pineapple. Add spinach leaves, around two fistfuls. Add half a cup of yogurt and one-fourth cup of water. Blend well. Drizzle some honey on top of it.
Banana and Chocolate Smoothie– Kids can never say no to chocolates. So, it would be a great option for them. Add one-fourth cup of dark chocolate to one and a half cups of milk. Add a whole banana by slicing it. Blend it. Add some chocolate syrup and vanilla extract for some added flavors. You can add ice cubes as well. For vegan kids, almond milk is always a great option. Thus, you have your smoothie, and now enjoy!
2. Pancakes
Who doesn't love pancakes? They are so tasty and fluffy. They are easy to make and time-saving for mothers and a tasty treat for the kids. It's one of the healthy breakfast ideas for kids. In this article, you will know how!
Whole Wheat Pancakes– Ditch your regular flour and start using whole wheat for a healthier life. This tastes good and makes you full for a longer period without adding excessive calories and fat. Take two cups of whole wheat flour and add one teaspoon of cinnamon powder, two teaspoons of baking powder, one teaspoon of baking soda, six tablespoons of brown sugar, and a pinch of salt. Mix it well. Then add two eggs, four cups of carrots, four tablespoons of chopped walnuts, half a cup of full-fat cream, and two cups of milk. Add a few drops of vanilla essence and make a batter. Add more milk if required to reach the perfect consistency of the batter. Heat oil or butter on a non-stick pan and add the batter. Cook on both sides equally. Serve with maple syrup or butter.    
Oatmeal Pancakes– Oats are a great option to start your day and what could be better than some pancakes made out of it? Here is the recipe for making these. Make a course powder of oats and add one and a half cups of it to half a cup of milk. Two egg whites should be added. Keep the yolks separate. Add brown sugar according to your taste. Half a teaspoon of cinnamon powder, one-fourth teaspoon of nutmeg powder, and baking soda must be added with a pinch of salt. Fry on a non-stick pan till it's cooked properly on both sides. Serve with your favorite syrup or butter.
Apple Pancakes– You would need four eggs mixed with one large or two small-sized smashed apples. Add half a cup of milk, one tablespoon of butter or vegetable oil, powdered sugar according to your taste with half a teaspoon of vanilla essence. A pinch of salt could be added as well. Add half a cup of whole wheat flour as well. Heat the pan and cook the batter evenly on both sides. Serve with maple syrup.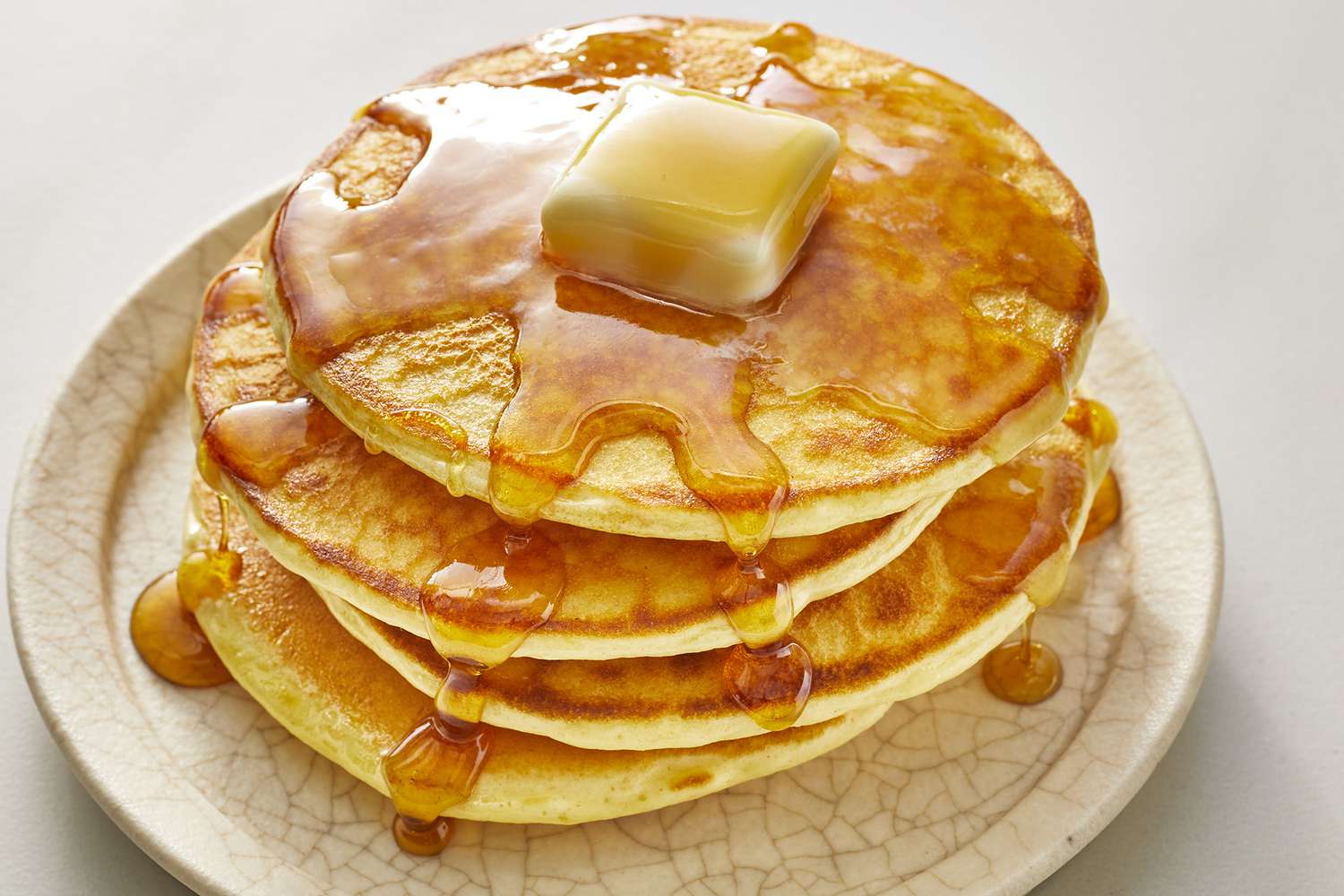 3. French Toasts
These are other good options for quick and healthy breakfast ideas for kids. You can add these with yogurt and fresh fruits to make it even more tasty and nutritious. Take whole wheat bread and cut them into triangles by splitting it from corner to corner. Take a tray and mix two eggs with one-fourth cup of milk. Add a pinch of salt and cinnamon powder to it. Beat the mixture well. Dip your bread in it. And fry on a non-stick pan using a little bit of butter or vegetable oil. Serve it with maple syrup and fresh strawberries and blueberries. You can serve it with slices of bananas as well.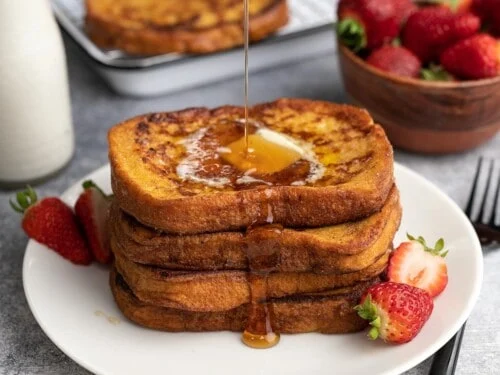 4. Ham and Egg Sandwich
A protein-rich diet is what your kids need for their muscle and strength development. Ham is a good source of protein and eggs contain healthy fats as well as calcium and vitamins along with protein. Bread is a good source of carbohydrates. As for the recipe, toast two slices of whole wheat bread. Add boiled egg slices, ham slices, cucumber, and onion slices with lettuce leaves on top of one slice of toast. Add cheese sauce and tomato sauce with a pinch of salt and pepper for added flavor. Place another slice of toast on top of it and cut the sandwich into two halves. Enjoy!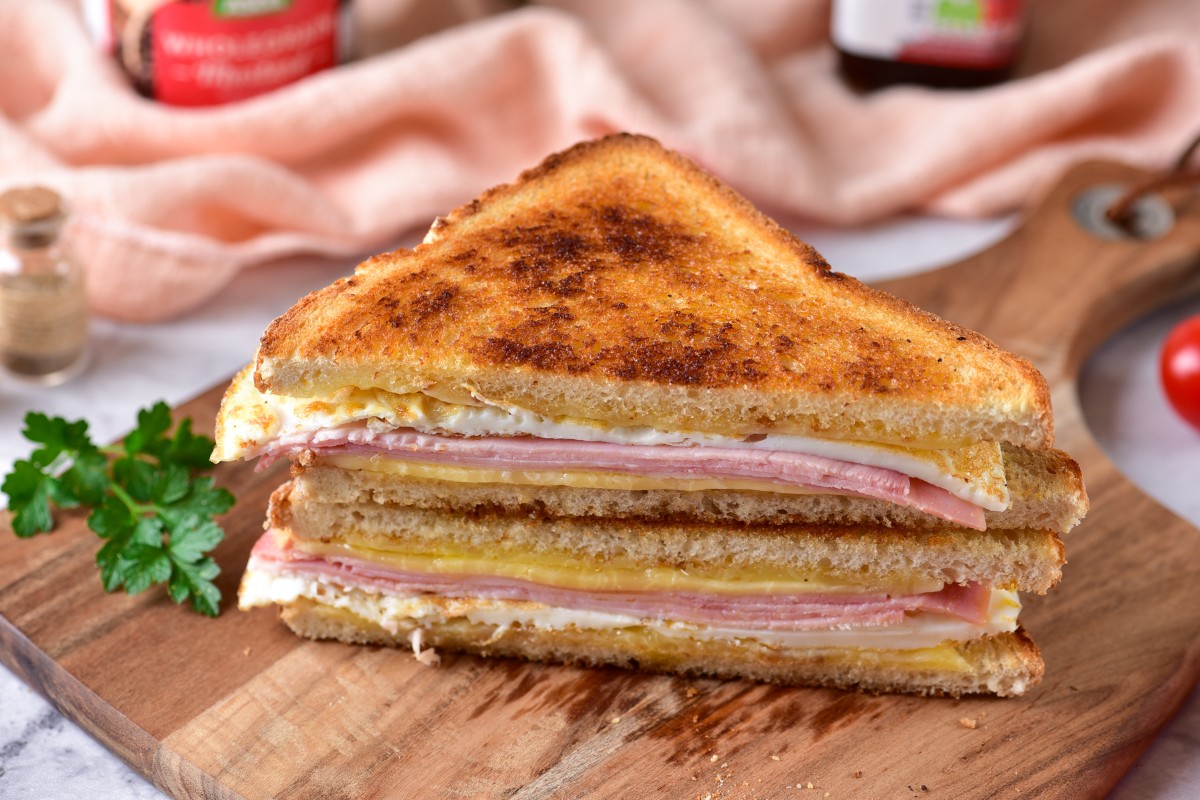 5. Egg and Vegetable Muffins
These could be added to your kid's diet if he or she is not a fan of vegetables. These look like regular muffins and taste so good that your kids will be left asking for more. To make these you would need chopped vegetables (onion, carrots, beans, broccoli, peas, etc). Half a cup of each vegetable. Mix two to four eggs to these vegetables with salt and pepper according to your taste. Take out any muffin tin and grease it with butter or oil. Pour the mixture into it and bake for twelve to fifteen minutes at 200 degrees Celsius or until it's done. These freshly baked muffins are another one of the healthy breakfast ideas for kids.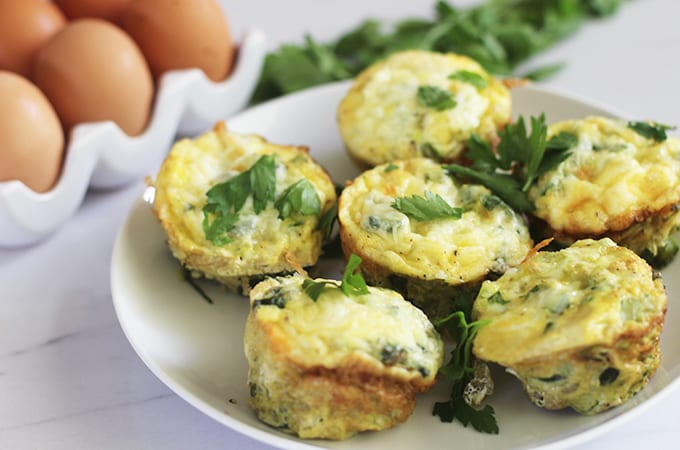 6. Spanish Egg Omelette
Forget your regular omelets and try these Spanish ones! Eggs are no doubt a great source of protein and doctors recommend young kids to have at least one egg every day. For making these you would require two eggs mixed with chopped potatoes (one-fourth cup), onions (one-fourth cup), tomatoes (one-fourth cup), and coriander (one stalk). Add salt and pepper to taste. These Spanish omelets become so fluffy and tasty along with filling you for hours that your kids won't mind having them.
7. Overnight Oats
You might think that it's such a boring meal that even adults don't want to have it sometimes. But you can add a twist to it by presenting it with fresh fruits and nuts so that your kids would love it. You can add one-fourth cup of oats with half cup of milk and leave it for a bit to soak in it. Take small glasses and add the mixture. Top it with chopped nuts like almonds or walnuts, freshly grated coconut, chia seeds, and a drizzle of honey. You can serve it as it is or can keep it overnight in the freezer and serve it cold in the morning. This sweet and healthy option would be very tasteful for your kid.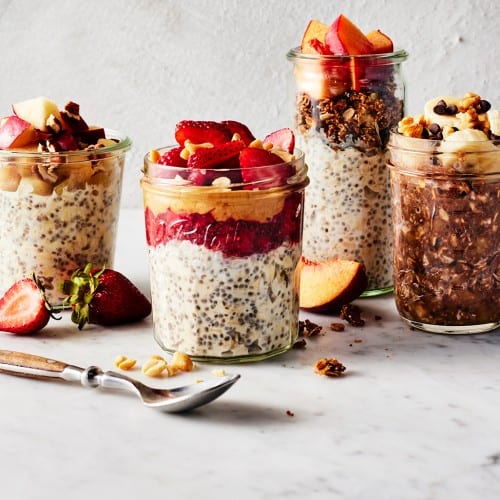 8. Sorghum Porridge
Sorghum is a gluten-free type of whole grain that is very chewy in nature with a nutty taste. You can eat it as porridge. Add one cup of milk with half a cup of sorghum and mix well. Top it with freshly chopped fruits like bananas, berries, pears, apples, or anything your kid loves. Add chopped nuts and drizzle maple syrup or chocolate syrup on it. This is one of the healthy breakfast ideas for kids.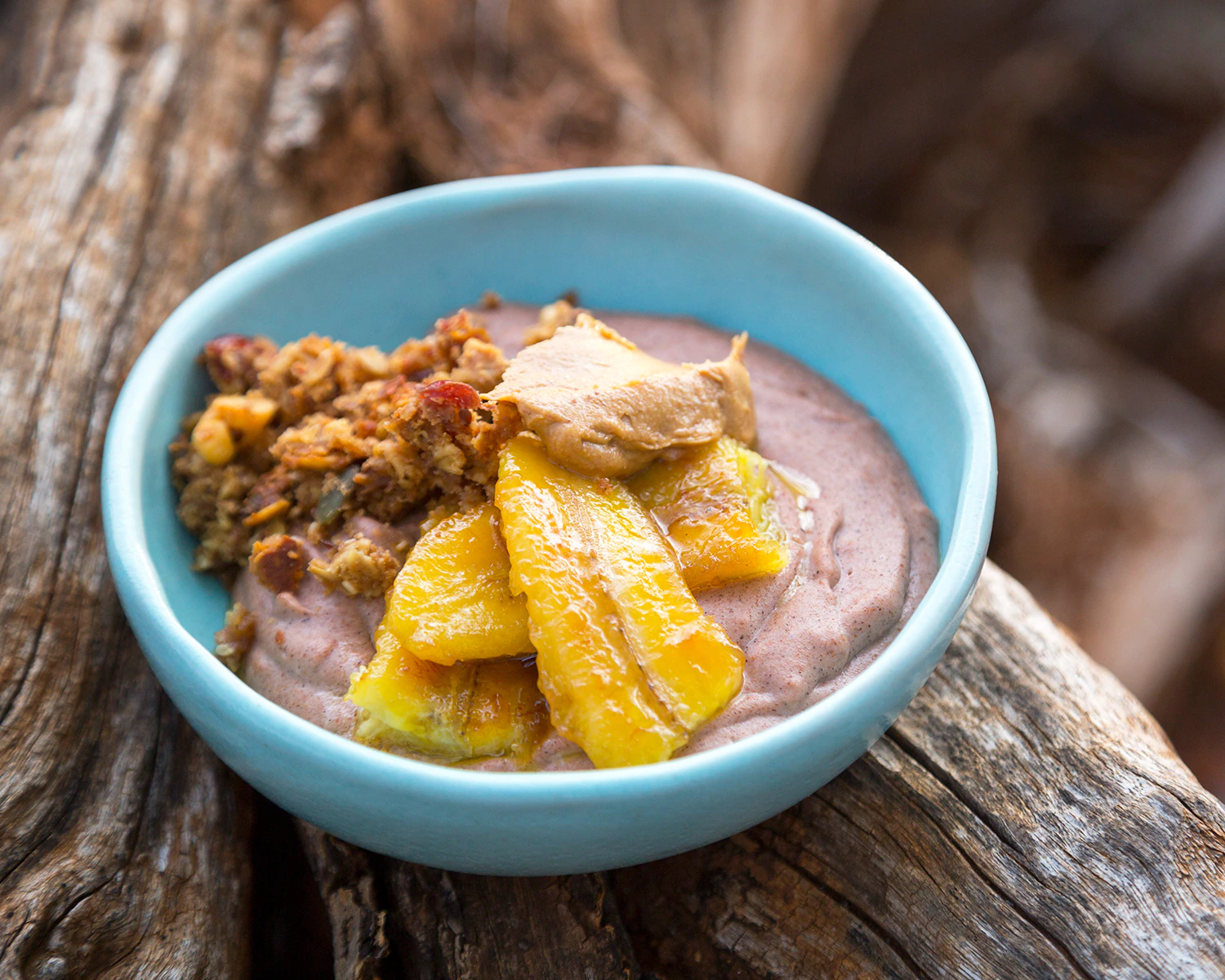 FAQs
1. What is the healthiest breakfast for kids?
Smoothies, boiled eggs, avocado toast, etc are good options for a healthy breakfast for kids.
2. What can a 10year old make for breakfast?
Your 10year old can make smoothie bowls, oatmeal porridge, toast, yogurt parfait, etc for breakfast.
3.
What are 3 healthy breakfast options?
Eggs, greek yogurt, and coffee can be good options for breakfast.
4.
What is brain food breakfast for kids?
Nuts, meat, fish, chicken, yogurt, eggs, butter, etc are some of the brain food for kids.
5.
What is a balanced breakfast?
A balanced breakfast consists of balanced amounts of carbohydrates, fiber, protein, vitamins, and minerals.
6.
What is the best food for an empty stomach?
Papaya, watermelon, soaked almonds, dried fruits, etc could be eaten on an empty stomach.
7.
Can a child eat a banana in the morning?
Yes! Your child can have a banana in the morning. Bananas are rich in zinc, sodium, carbohydrate, and iron. These fruits are good for your kid's health.         
Conclusive Insights
Kids need more nutrition than adults as they are in their growing stages. Their brain development is 90% completed by the age of nine or ten so you need to give them the best proportionate diet. Vitamins, minerals, fiber, carbohydrates, fats, and proteins are all equally important. Make sure they drink enough water as well as fruits, vegetables, and nuts along with eggs, meat, and other protein sources. These were some of the healthy breakfast ideas for kids. You can try these easy and simple breakfast ideas for your kids and be their favorite chef of all time. Your kids would keep wanting more.